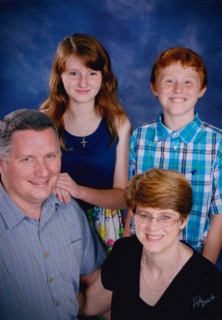 My family has made the Central Business District area our home for the past 20 years. It has been a joy to watch this area grow and change over the years. We have also love being so close to everything in the city. When the opportunity came for me to Pastor Commonwealth UMC it seemed like such a natural fit. Serving a church in a community that I have come to love and call home that for me is exactly what I envisioned when I entered into the process of becoming a Local Pastor for the UMC.
Family is a big part of my calling into the ministry. Without their loving support and constant prayers, I would have probably never ventured into the realm of clergy. Sandy and I have worked together in one form or another for the majority of our marriage and we both see our time here at Commonwealth as an opportunity to continue this tradition. We worked together as Teaching Parents in North Wilksboro, NC prior to moving to Charlotte and for the past seventeen years we have owned and operated a pet sitting business here in the city. Now in addition to our sitting business we are looking forward to working together to serve the good folks at CUMC.
Raising our two children has been and still is a huge focus in our lives. Rebecca and Robert are both homeschooled by Sandy and it has been a blessing to watch them thrive in our loving home environment. Rebecca and Robert are both involved in Scouting. Rebecca is part of a Venture crew and Robert is a proud Boy Scout quickly earning his way to what we hope will be Eagle rank (just like his old man). Sandy and I have prided ourselves in creating a family that operates not as a bunch of individuals thrown together because of a similar last name but as a cohesive loving family with one goal&.to do that which God has called us to do.
Blessings, The Kurts Steven, Sandy, Rebecca, and Robert