Join our email list!
Feel free to join our email list (using the form below) to receive prayer requests and announcements from the church. You do not have to be a member to add yourself. You can remove your email at any time by selecting the removal link at the botttom of any of our emails sent to you.
Click here to submit a prayer request to the church.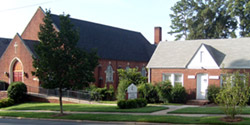 Upcoming Events:

12/10/23 :

10:00 AM - Sunday School

12/10/23 :

11:00 AM - Worship

12/17/23 :

10:00 AM - Sunday School

12/17/23 :

11:00 AM - Worship

12/24/23 :

10:00 AM - Sunday School

12/24/23 :

11:00 AM - Worship

12/31/23 :

10:00 AM - Sunday School

12/31/23 :

11:00 AM - Worship